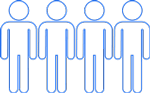 Number of persons: 4 max

Bed room with two bunk beds
 Park place
 Cooking top
 Fridge
 WI-FI
The 4P Bungalow Legno is a simple wooden house, perfect for camping enthusiasts.
It can host up to a maximum of 4 people and features: a fully-furnished kitchen with pots and pans, a cooking top, a sink and a fridge; a bedroom with two bunk beds and a wardrobe; and a small outdoor terrace with an awning, a small table and chairs to eat outside.
The toilets are outside and are shared with the other campers in the nearby washroom block. 
To the side of the bungalow, there's parking space for your car.